Graduate Student Spotlight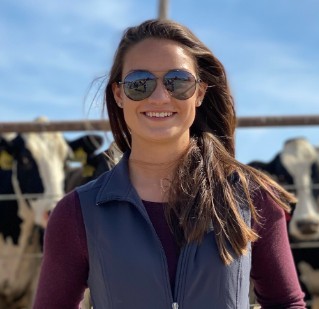 SAVANNAH BANNER
Savannah is a Graduate Student at the University of Georgia (UGA) studying Crop and Soil Sciences. She obtained a bachelor's in Crop and Soil Science from Abraham Baldwin Agricultural College in the spring of 2021. She is originally from Micanopy, Florida, and was heavily involved with 4-H, which is where her interest in agriculture was sparked. Within 4-H, she had much interaction with Entomology and helped teach camps for this topic throughout high school. However, once she began the core classes for her Bachelor's, she found her interest in Crop and Soil Sciences.
In pursuit of this interest, she completed an internship with the UGA in the Plant Pathology Department, under Dr. Tim Brenneman, in the summer of 2019. During this internship is where her work in peanuts began. The following summer, she completed an internship with Bayer Crop Sciences, focused on early pesticide development research. Through Bayer, she gained experience in row crops and horticulture crops and the effects of pesticides for EPA labeling. After these experiences, Banner began working for Dr. Scott Monfort as a student worker in the fall of 2020.
Banner chose to pursue her master's degree under Dr. Scott Monfort because she knew that with her goal of working in extension and/or research, that it would be necessary. She knew that she would be able to broaden her research abilities and knowledge as well. Banner chose UGA because of Georgia's number one ranking in peanut production, which paired well with her background in peanuts. She chose to stay in the southeast to obtain a better understanding of the agronomic systems used by growers and to build more connections in the agriculture industry.
Miss Banner's research on peanut consist of two projects. The first one involves working with the growth regulator (Prohexadione calcium) in peanut. The growth regulator in peanuts has been around since 2000 but has not been used on Runner market-type peanuts until the last decade. It has become increasingly more popular over time due to the introduction to new fast growing peanut runner cultivars. This season, with the large amounts of rain, having to control excess vine growth is important for row visibility and being able to condense plant canopy. The primary objective is to evaluate a new liquid formulation of Prohexadione calcium and determine if it is effective on managing vine growth and increasing yield potential comparable to the current formulation used.
Her second project is on seed quality, which looks at different planting, digging, and harvesting dates. This is done to look at seed quality for the next year. There was a seed quality issue two years ago, therefore many projects have stemmed from it to better cultivate the seed in the field and prevent germination issues.
Banner explained that she has faced a learning curve with starting her master's program, but her background in the industry has helped to guide her. Also, that there is a challenge with starting a new project and understanding the outline of how it is supposed to be executed. In addition, the project will continue to change as you complete your research and it is important to be able to adjust and realize that not everything is going to be perfect in the agronomic system.
by Caraline Coombs, student assistant, UGA Peanut Team Media