Graduate Student Spotlight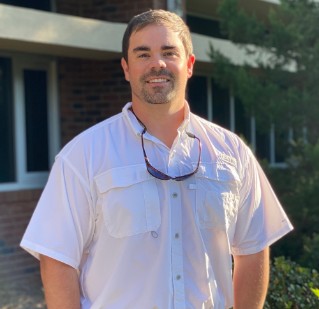 Chad Abbott is a graduate student at the University of Georgia (UGA) from Augusta, Georgia. Abbott obtained a bachelor's degree in Natural Resource Management from Abraham Baldwin Agricultural College, as well as two associate degrees in the Forest and Wildlife Tech programs. He then pursued his master's degree at Mississippi State University in Plant and Soil Sciences with a minor in Entomology.
While completing his master's, Abbott was involved in research that would help peanut growers in Mississippi. His thesis was focused on establishing leaf defoliation thresholds in peanut. To do this, they were Simulating caterpillar defoliations, and this was accomplished by hand defoliating the peanut canopy. There were two parts to his research in which he evaluated 100% defoliation at six times during the growing season and expanded that by als evaluating multiple levels of defoliation at two critical timings. The two timings evaluated were 40 and 80 days after emergence, which correlates to peak flowering and peak pod fill. This data allows for more judicious uses of insecticides across Mississippi peanut acres by understanding the impacts of defoliation on potential peanut yield loss.
After completing his master's degree, Abbott chose to spend some time in the industry. He took a job as a cotton agronomist for fifteen months and then went into field sciences, where he assumed that role for seven months. As an agronomist, he covered Georgia, north Florida, and south Alabama. When he transitioned into a researcher within field sciences, he covered a territory from North Carolina to west Texas. Unfortunately, Abbott, as well as several hundred other employees were let go due to complications related to COVID-19 in 2020.
In May of 2020, Abbott began his Ph.D. program at the University of Georgia – Tifton, studying under Dr. Eric Prostko, Professor/Extension Weed Specialist. He chose to continue and pursue his Doctorate because he was enthusiastic about where the possibilities could take him. Abbott also explained that he never wanted to be limited by education, regarding a future career. To go as far as he can, in education and research, to benefit farmers, is his end goal. Attending UGA has also always been a goal for Abbott, and he is thrilled to be finishing here, where it all started for him.
Abbott is involved with a few different projects, but the ones involving the Peanut Team are involving new herbicides that are under development and looking for future labeling. One of the herbicides being studied is being used in cotton and has been used in aquaculture for a long time. Brake (fluridone), a preemergence herbicide is being evaluated using multiple rates across 7 different peanut cultivars. A similar study is being conducted with another preemergence herbicide, called trifludimoxazin. Abbott is also evaluating the weed control performance of these two herbicides in comparison to current standard UGA peanut weed control programs. Additionally, Abbott is studying the effects of two different forestry herbicides potential impact on peanuts when they are misapplied either before peanut planting or during the growing season. The results of this study hope to answer questions which have been asked by farmers in recent years. Abbott's final project related to peanuts has been a multi-state project, within the peanut belt, regarding RoundUp and Dicamba. The purpose of this study is to evaluate the effects of these two herbicides when applied at multiple timings at low dose rates. Several plant metrics have been collected to better understand the effects of these herbicides and how it will impact the plant canopy, yield, and peanut pod quality.
After graduate school, Abbott hopes to be able to stay in the Tifton area. He enjoys working with extension and industry cooperators, as well as traveling. His overall end goal has always been to help farmers become more efficient and hopes to continue doing this throughout his career.
by Caraline Coombs, student assistant, UGA Peanut Team Media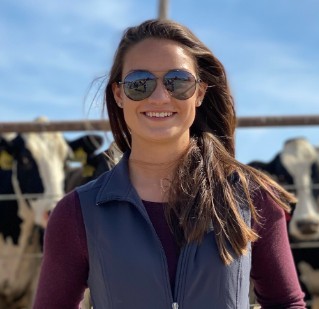 Savannah is a Graduate Student at the University of Georgia (UGA) studying Crop and Soil Sciences. She obtained a bachelor's in Crop and Soil Science from Abraham Baldwin Agricultural College in the spring of 2021. She is originally from Micanopy, Florida, and was heavily involved with 4-H, which is where her interest in agriculture was sparked. Within 4-H, she had much interaction with Entomology and helped teach camps for this topic throughout high school. However, once she began the core classes for her Bachelor's, she found her interest in Crop and Soil Sciences.
In pursuit of this interest, she completed an internship with the UGA in the Plant Pathology Department, under Dr. Tim Brenneman, in the summer of 2019. During this internship is where her work in peanuts began. The following summer, she completed an internship with Bayer Crop Sciences, focused on early pesticide development research. Through Bayer, she gained experience in row crops and horticulture crops and the effects of pesticides for EPA labeling. After these experiences, Banner began working for Dr. Scott Monfort as a student worker in the fall of 2020.
Banner chose to pursue her master's degree under Dr. Scott Monfort because she knew that with her goal of working in extension and/or research, that it would be necessary. She knew that she would be able to broaden her research abilities and knowledge as well. Banner chose UGA because of Georgia's number one ranking in peanut production, which paired well with her background in peanuts. She chose to stay in the southeast to obtain a better understanding of the agronomic systems used by growers and to build more connections in the agriculture industry.
Miss Banner's research on peanut consist of two projects. The first one involves working with the growth regulator (Prohexadione calcium) in peanut. The growth regulator in peanuts has been around since 2000 but has not been used on Runner market-type peanuts until the last decade. It has become increasingly more popular over time due to the introduction to new fast growing peanut runner cultivars. This season, with the large amounts of rain, having to control excess vine growth is important for row visibility and being able to condense plant canopy. The primary objective is to evaluate a new liquid formulation of Prohexadione calcium and determine if it is effective on managing vine growth and increasing yield potential comparable to the current formulation used.
Her second project is on seed quality, which looks at different planting, digging, and harvesting dates. This is done to look at seed quality for the next year. There was a seed quality issue two years ago, therefore many projects have stemmed from it to better cultivate the seed in the field and prevent germination issues.
Banner explained that she has faced a learning curve with starting her master's program, but her background in the industry has helped to guide her. Also, that there is a challenge with starting a new project and understanding the outline of how it is supposed to be executed. In addition, the project will continue to change as you complete your research and it is important to be able to adjust and realize that not everything is going to be perfect in the agronomic system.
by Caraline Coombs, student assistant, UGA Peanut Team Media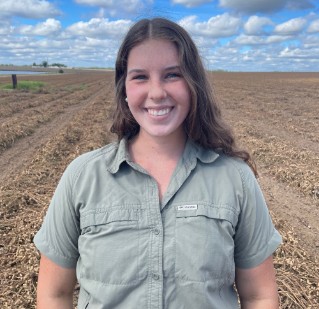 Macie Wheeler is a Graduate Research Assistant in the Crop and Soil Sciences Department from Thomasville, Georgia. Although she did not grow up in 4-H or FFA, she did have a passion for hard work, the outdoors, and an appreciation for where her food and fibers came from. She obtained a bachelor's in Environmental Horticulture from Abraham Baldwin Agricultural College (ABAC) in the fall of 2020. During her time at ABAC is where she discovered her passion for agriculture.
Wheeler began working at the University of Georgia (UGA) – Tifton as a Student Worker, under Drs. Wayne Hanna and Dr. Brian Schwartz in the Crop and Soil Sciences Department (Plant Breeding and Genomics). While there, she was encouraged to pursue graduate school, because of career goals with extension and research. Her goal before beginning graduate school was to become well-rounded and knowledgeable of the major crops in the south. Also, during her time there Dr. Schwartz introduced her to Dr. Scott Monfort, who would later become her co-advisor.
For her peanut project, Wheeler is studying the effect of in-furrow fertilizers on peanut germination. Plant fertilizers are typically recommended in a 2x2 (2 inches down x 2 inches to the side) application in row crops such as corn and cotton. However, they have never been recommended in peanuts. The utilization of in-furrow applications for inoculants in peanuts has provided the opportunity for the industry to recommend other in-furrow products, including fertilizer. This project was started in a bare-ground greenhouse last , during the winter. More research Ffollowed up, this growing season with two on-farm trials, one irrigated and one dry land. Multi-state trials are also being conducted in the peanut belt to evaluate the effects of in-furrow fertilizer in different climates and growing conditions
With the assistance of her co-advisors and the UGA Southwest district, she has projects in turf and an assistantship at the Worth County Extension office, as well. Wheeler's turfgrass project is with Dr. Brian Schwartz., Associate Professor in the Crop and Soil Sciences Department. It is a mowing frequency height assessment to discover a zoysia grass cultivar(s) more suitable for homeowners. These cultivars could benefit homeowners economically by reducing the amount of mowing required. Zoysia is an overall lower maintenance grass that requires less fertilizer and is more shade tolerant. Unfortunately, zoysia grasses are is not perfect as, they can need to be watered often and are typically more susceptible to diseases. These experimental cultivars are still in evaluation and being researched to their full potential, but Dr. Brian Schwartz and the Turf Team are hopeful for a release in the future.
In Worth County, Wheeler works under ANR Agent, Scott Carlson and 4-H Agent, Kristen Ford. Every day looks different and, generally, she works 20 hours a week answering grower calls, making farm visits, attending educational training, performing trials from UGA Extension Specialists, and working in the office. In addition, she attendeding Junior-Senior Project Achievement at Rock Eagle, assisted with Cloverleaf Project Achievement, and attended summer camp.
A learning curve that Macie she faced when beginning graduate school, was that most classes and meetings were being held through Zoom. This caused difficulty as she was attempting to find her place a community within a new school and program. As the school has gradually made the change back to in-person learning, she has begun to discover and integrate herself into the community here at UGA.
by Caraline Coombs, student assistant, UGA Peanut Team Media